<placeholder />
Click for more characters >>
What do you think of Yahari Ore no Seishun Love Come wa Machigatteiru Zoku OVA?
See Previous Polls
Happy "23rd" B-Day
Read More...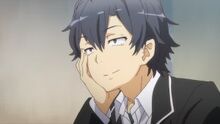 Create blog post
As most of you know by now Volume 12 of Yahari Ore no Seishun Love Come wa Machigatteiru has been delayed, indefinitely. Fans initially thought it could be a very cruel April Fool's prank as the release date disappeared around April 1st, depending on…

Read more >

Their latest issue of OreGairu Light Novel was released last June of 2015. And it was reported that the LN was sold well on Japan.

And after that, OreGairu was put on hiatus for a year and a half to make way for other opportunity for Wataru-san. Wata…

Read more >
See more >
Loading RSS data...
Ad blocker interference detected!
Wikia is a free-to-use site that makes money from advertising. We have a modified experience for viewers using ad blockers

Wikia is not accessible if you've made further modifications. Remove the custom ad blocker rule(s) and the page will load as expected.