Click for more characters >>
Favourite female character in "Yahari Ore no Seishun Love Come wa Machigatteiru. Zoku"?
Who is the girl whom Hayama likes or liked, with the intial letter "Y"?
See Previous Polls

OreGairu.Zoku Has Won Three Consecutive Awards at the 2015 NewType Awards held last October 10th. Read More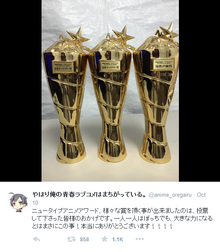 Loading RSS data...
Create blog post
October 10th, OreGairu won three NewType awards at the MACHI☆ASOBI in Japan.

These Three Awards Including:

Male Character Award: Hachiman Hikigaya
Female Character Award: Yukino Yukinoshita
Voice Actor: Eguchi Takuya

Including some of the nominations lik…

Read more >

Remember when the Season 1 of OreGairu has an OVA only for the Blu-ray and PSVita who owns the OreGairu Video Game? I think we will going to see another OVA in the Blu-ray Version of Zoku...

Read more >
See more >