Click for more characters >>
Favourite female character in "Yahari Ore no Seishun Love Come wa Machigatteiru. Zoku"?
Who is the girl whom Hayama likes or liked, with the intial letter "Y"?
See Previous Polls
Komachi Hikigaya
(voiced by
Aoi Yuuki
) is Hachiman Hikigaya's little sister who is very supportive and cheerful to him. In accordance to Hachiman's words, she's got the Big Three: Cuteness, Pretty and has Good looks. Komachi is well known for her charm which seems to attract everyone...
Read more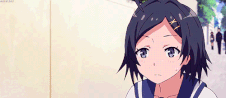 Loading RSS data...
Create blog post
Damn it, I forgot, it's already 4 days late. But anyways, HAPPY B-DAY HACHIMAN!! I'm sorry that I forgot your B-day...

Hmm... I wonder what's his wish? Including his relationship of his service club members and his other collegues.

But anyways, Happy B-…

Read more >

Sometimes, some of the scenes from OreGairu 2 makes you giggle, laugh or even cry.

But when it comes to quotes from other characters, OreGairu 2 could take you to the deepest part that only few has the courage and the smarts to understand it.

And this…

Read more >
See more >