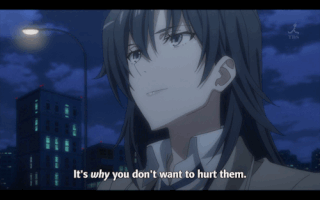 Sometimes, some of the scenes from OreGairu 2 makes you giggle, laugh or even cry.
But when it comes to quotes from other characters, OreGairu 2 could take you to the deepest part that only few has the courage and the smarts to understand it.
And this is why OreGairu has so many scenes that are very difficult to decode what they are saying for those who were just a normal person (AKA in the middle part of being a smart person).
So, which episode that is very, VERY Difficult to understand it?
Mine would be on the WHOLE Episode of Episode 8. Only few I understand from Shizuka, and GADDAMIT MY MIND JUST SPLATTERED INTO PIECES JUST TO DECODE THIS SCENE!!
Ad blocker interference detected!
Wikia is a free-to-use site that makes money from advertising. We have a modified experience for viewers using ad blockers

Wikia is not accessible if you've made further modifications. Remove the custom ad blocker rule(s) and the page will load as expected.