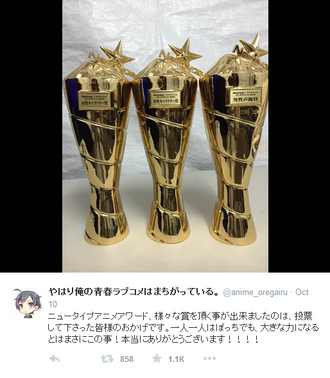 October 10th, OreGairu won three NewType awards at the MACHI☆ASOBI in Japan.
These Three Awards Including:
Including some of the nominations like:
Screenplay Award (Psycho-Pass)
Character Design (IDOLM@STER -Cinderella Girls)
Opening Theme (F/SN UBW)
Best Director award (F/SN UBW)
Mascot Character: Pan-San (loss to Sonic from Kekkai Sensen)
Voice Actress: Saori Hayami (loss to Hanazawa Kana)
Anime Award (F/SN UBW)
CONGRATULATIONS!!
Wait so if OreGairu.Zoku wins three awards... OreGairu 3 Confirmed?
Ad blocker interference detected!
Wikia is a free-to-use site that makes money from advertising. We have a modified experience for viewers using ad blockers

Wikia is not accessible if you've made further modifications. Remove the custom ad blocker rule(s) and the page will load as expected.