Relationships
Edit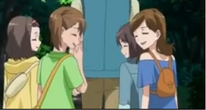 Rumi's peers include Yokko (Voiced by :
Megu Sakuragawa
), Mori (Voiced by :
Haruka Shiraishi
), Hitomi (Voiced by :
Erii Yamazaki
), and Yuka (Voiced by :
Ibuki Kido
) with whom she grouped with in times of  summer camp. Hachiman graded them as the eggs of future popular clique that are yet to hatch.They seems to look up to Hayato and Yumiko.
They didn't seems to establish an equal relationship with Rumi as they talk behind her and making fun off her while giving scorn looks at Rumi. But Rumi gave them an helping hand. The aftermath on their individual relationship or with Rumi is still questionable which Hachiman was unable to ask or confirm to any conclusion. Hence it remains hidden to the audience
Representatives
Edit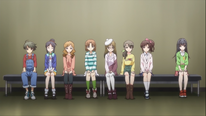 Rumi has a formal relation with the seven other representatives, they all acted as an colleagues in times of collaboration event. Rumi and others exchanged a word or two in the planing committee, but still Rumi kept a visible distance either due to her past experience.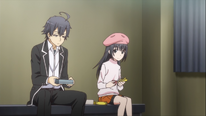 Mostly Rumi tried to have conversation with Hachiman than any other high schoolers in the camp. She is more open to Hachiman during their conversations, since both of them are fellow loners and ostracized by their peers. Rumi also addressed Hachiman by his first name.However, after the test of courage incident, she didn't speak to him and just walked past him. It is likely she realized that Hachiman planned that all.  
During the Christmas collaboration event between Sobu High and Kaihin Sogu High, Hachiman and Rumi were making Christmas tree decorations together. Hachiman sees that his method did save her from bullying, but he feels that it might've not been enough as her solitary aura still remains when he saw her in the Christmas event.
Rumi is one of the few to call Hachiman by his first name and demanded him to call her by her first name as well (Episode 10,Volume 9). Rumi was shown to be happy by her eyes when Hachiman called her by her first name.
In light novel, after making Rumi a star in the christmas play, Hachiman watches at the distance of Rumi receiving  well deserved praise. Hachiman also praised Rumi's celebrity quality in his own mind but left the area without seeing or saying anything to her again. Thus Hachiman succeeded in finishing what he felt of leaving incomplete. Hachiman feels that Rumi is genuine, for she leaded hand to her peers even though she knew them to be fake.
Saika, Komachi, Yumiko, Hina, Tobe and Yui were sympathetic towards Rumi, and tried to help her socialize.It is possible that she was aware of the reason behind Hayato, Yumiko and Tobe delinquent act at Chiba village summer camp.
Most characters seem to think Rumi as Yukino's past version. Yumiko stated that Rumi was the same as someone they know and then stared at Yukino. Yukino was able predict Rumi's future social condition and there are hint's of Yukino's experience. Rumi also shows cold stares towards Yukino for her harsh words of shattering Rumi's hope. Yukino also mentions to Hachiman, her desires to improve Rumi's situation
Hayato wishes to make difference in Rumi's social life however he can.It is possible that  Rumi's situation remind Hayato of a trauma or something close to his past. Yukino even pointed out that Hayato can't take this matter out of his mind. Hayato also tried his hand resolving matter but failed. However he went against his grade and went with Hachiman's plan to yield some result. In later novels it was mentioned that Hayato along with his clique praised Rumi for her performance in the christmas play. Nothing more in details was mentioned about their conversation or Rumi's opinion of Hayato to whom she maintains a strained smile at their first encounter.
Rumi didn't accept Yui as one of them (loners) and states that she belonged to lively Hayato's group. But she talked freely to Yui than Yukino.
Ad blocker interference detected!
Wikia is a free-to-use site that makes money from advertising. We have a modified experience for viewers using ad blockers

Wikia is not accessible if you've made further modifications. Remove the custom ad blocker rule(s) and the page will load as expected.