My Teen Romantic Comedy SNAFU TOO!

A Promotonal Poster For The My Teen Romantic Comedy SNAFU TOO!

Country
Japan
No. of episodes
13
Release
Original channel
TBS
Original release
April 2, 2015 – June 25,2015
Season chronology

Previous

Next

My Teen Romantic Comedy SNAFU

TBA
My Teen Romantic Comedy SNAFU TOO!
(also known as
Yahari Ore no Seishun Love Come wa Machigatteiru. Zoku)
is the second installment of the anime series based on the
Light Novel
and a direct sequel to
My Teen Romantic Comedy SNAFU.
It is a continuation from the first season where the main character
Hachiman Hikigaya
is forced to join his school's
service club
, which has an unexpected effect on his life. It aired on TBS from April 3, 2015, to June 26, 2015. the final episode aired on the release date of
Volume 11
.
This season covered Volumes 7 - 11 of the Light Novel.
Ova Zoku was released after this season.
Opening Theme
"Harumodoki (春擬き, Pseudo-Spring)" by Nagi Yanagi
Ending Theme
"Everyday World" by Saori Hayami (Yukino Yukinoshita) and Nao Touyama (Yui Yuigahama)
Other Music
"Bitter Bitter Sweet" is used as an insert song in the first episode and also performed by Hayami and Tōyama as their respective characters.
"Yukitoki" (ユキトキ) by Nagi Yanagi, (which is used as an opening theme for season 1) is used as an insert song in the tenth episode.
Plot
List of Episodes
The following episodes shown here were aired every Thursday at 1:46am in TBS (Japan Time). (Source: Wikipedia)
No.
Title
Original airdate
Episode 1

"And that, nobody knows why they come to the service club"

"Naze, karera ga hōshibu ni kita no ka daremoshiranai"

April 2, 2015
The lively atmosphere of Soubu High School begins dissipating after the events of the recent festivals and the focus shifts to an upcoming field-trip to Kyoto. While the Service Club discuss the trip, they are rudely interrupted by Hayato Hayama and Kakeru Tobe, who request that they help the latter in a romantic pursuit of Hina Ebina. Hachiman Hikigaya decides to accept the request and outlines the risks of asking a girl out before they try to discern Kakeru's favorable traits. The following day, Yui Yuigahama outlines a plan to utilize the field-trip for the request until Hina interrupts them. Hina remarks about the evolving relationships of her peer group and further adds her support for Hachiman to become more sociable. Eventually, the Soubu High students arrive in Kyoto, and Hachiman and Yui make little progress in assisting Kakeru with Hina. Afterwards, Hachiman gives Yukino Yukinoshita a progress report on the request. However, when they spot Shizuka Hiratsuka attempting to sneak out of the hotel, the latter convinces them to keep her nightly escapade under wraps and sends them off with some words of reassurance. Eventually, the first day of the field-trip ends with Hachiman escorting Yukino back to the hotel. 
Episode 2

"His and her confession won't reach anyone"

"Kare to kanojo no kokuhaku wa darenimo todokanai"

April 9, 2015
On the second day of the Kyoto trip, Hachiman runs into Yumiko Miura at a convenience store and learns that Hina had rejected every one of her romantic suitors, with Yumiko voicing her content in the current status of their peer group. The Soubu students arrive in Arashiyamathe next day and Hayato uncharacteristically confides in Hachiman about his myopic fears on the consequences that Kakeru's confession will have on the integrity of their peer group. Hayato then reluctantly tasks Hachiman with saving it. As the Soubu students quietly observe Kakeru's confession to Hina later that night, Hachiman once again risks his reputation by interrupting them and faking a confession to Hina. Hina rejects him and explains her desire to be single for the time being before running off. Kakeru then thanks Hachiman for saving him from the embarrassment of rejection before leaving with Hayato and the others. Despite Hachiman saving a peer group from imploding, Yukino voices her disgust at his choice of action and Yui tearfully yells at him for failing to see how his unorthodox problem solving methods hurt those who care about him. The next day, Hina thanks Hachiman for fulfilling her request in saving the status quo of her peer group.
Episode 3

"Silently Yukinoshita Yukino makes her decision"

"Shizuka ni, Yukinoshita yukino wa ketsui suru"

April 16, 2015
School resumes and the students of 2F ignore the events of the field-trip and continue their normal interactions—in contrast to the stark tension between Hachiman and Yukino in the Service Club. Meguri Shiromeguri and Isshiki Iroha interrupt the club and request their aid in helping Isshiki lose the upcoming Student Council president election, since she was nominated against her will in a prank. Hachiman then proposes an idea that would solve the request via a censure motion against Isshiki. This method only serves to infuriate Yukino and herperspective once again clashes with the lateral thinking of Hachiman. Afterwards, Yukino has Shizuka determine the status of the club contest and Shizuka also reminds Hachiman of the dangers of his methods. Much to his dismay after school, Hachiman runs into Haruno Yukinoshita along with his middle school acquaintances Kaori Orimoto and Chika Nakamachi. At the next Service Club meeting, Hachiman chastises Yukino for developing a plan that fails to account for future complications should Isshiki get elected and argues that his plan bypasses the extra effort to solve said complications. Yukino then reproaches Hachiman for his methods which prompts him to walk out on the club meeting.

In the epilogue, Isshiki goes after Hachiman and expresses her concern over the state of the Service Club, but he promises that they will figure something out. 

Episode 4

"And Then, Yuigahama Yui Makes a Declaration."

"Soshite, Yuigahama Yui wa sengen suru"

April 23, 2015
Hayato invites Hachiman to hang out with Kaori, Chika and himself one weekend but Hachiman unsurprisingly declines, only to reconsider after pressuring from Haruno. The four of them eventually go out one afternoon and the Kaihin girls continuously poke fun at the expense of Hachiman. The evening eventually builds to a climax at a local café when Hayato sharply defends Hachiman's integrity from the girls. Afterwards, Yukino voices her disapproval for being deceived by Hayato into aiding his point to the girls instead of discussing the election and Haruno only adds fuel to the fire after observing the entire episode. In the aftermath, Hayato apologizes for creating an uncomfortable situation since he had only intended to get Hachiman to see the error of his self-sacrificial methods. This offends Hachiman to the point where he argues that the consequences of his choices are his alone and should not be the concern of others. The next day, Yukino decides to enter the election against Isshiki as a solution for her request. Since this effectively jeopardizes the future of the Service Club should Yukino emerge victorious, Yui also decides to enter the election in an attempt to preserve the Service Club should she win. The choices of his club members however, leaves Hachiman with a feeling of uneasiness. 
Episode 5
"The Scent of Tea Doesn't Fill That Room Anymore."

"Sono heya ni wa, Kōcha no Kaori wa mō shi nai."(その部屋には、紅茶の香りはもうしない。)

April 30, 2015
Hachiman decides to confide in his sister Komachi Hikigaya about the recent events and she gives him some words of encouragement before requesting that he find a way to keep both Yukino and Yui in the Service Club. The next afternoon, Hachiman meets with Yoshiteru Zaimokuza, Saika Totsuka, Saki Kawasaki and Komachi to brainstorm ideas for handling the student council election. They help Hachiman realize that his initial censure motion proposal was wrong since it would have damaged the only thing that Isshiki cares about, her self-image. Hachiman then has Saki draw up a list of potential candidates and further has Yoshiteru use the names to create an anonymoussocial media campaign. The following day, Hachiman manages to convince Isshiki into accepting the presidential position by using a combination of the social media statistics and clever reverse psychology to highlight its perks. Hachiman later presents the statistics to Yui and Yukino but does not tell them about how he falsely mined the data, using it only as a means to convince the pair that they need not run anymore since Isshiki would win. Yui then thanks Hachiman with a small understanding for his method. Isshiki eventually wins the election by default due to having no competition as it originally was and life moves on once again. 

Episode 6

"Without Incident, The Congress Dances, But Does Not Progress."

"Tsutsuganaku, Kaigi wa Odori, Saredo Susuma zu."(つつがなく、会議は踊り、されど進まず。)

May 7, 2015
The Service Club tries harder to maintain their usual atmosphere after the recent events. This causes Hachiman to try and maintain thischarade with his fellow club members by becoming more sociable with them after observing Hayato's peer group. Isshiki eventually interrupts the club and asks them to help the Student Council plan a joint Christmas event with Kaihin General. When Yukino grows tense however, Hachiman decides to reject the request on behalf of the club and instead takes it on as a personal favor to Isshiki in order to maintain the facade of normalcy with Yukino. Later that day, Hachiman meets with the Soubu and Kaihin Student Councils at the local community center to begin planning the event. While Hachiman has difficulty following the jargon of the Kaihin brainstorms, Isshiki unwaveringly accepts their thoughts based on nothing more than their official presentation, much to the dismay of her fellow Soubu members. The next day, Hachiman tries communicating an idea in the Kaihin gibberish but it backfires and gets doubly misinterpreted in theorganizational noise. Making no progress at the end of the day, Kaori catches up with Hachiman and mockingly laughs at him when she learns of his membership to the Service Club. 

Episode 7

"Yet, That Room Continues to Play Out the Endless Days."

"Saredo, Sono Heya wa Owara nu Nichijō o Enjitsuzukeru."(されど、その部屋は終わらぬ日常を演じ続ける。)

May 14, 2015
Yui laments on the state of the Service Club one afternoon before Hachiman later goes looking for Isshiki when she fails to arrive at the Kaihin-Soubu meeting. This lands him in an involuntary discussion with Hayato about their reactions to helping others. Isshiki later arrives and they discover that Tamanawa had outsourced some of the work to grade-schoolers. Hachiman then tries to get Tamanawa to begin weighing and eliminating possible ideas but he explains that everyone should have an idea somehow baked into the Christmas event. An unexpected encounter with Saika later makes Hachiman question his preconceived ideal for helping others. At the next meeting, Hachiman realizes that he had been made the virtual head of the Soubu council. This prompts him to once again try and get Tamanawa to narrow the ideas so that Isshiki can have a better understanding of what to do. Hachiman then assists Rumi Tsurumi with finishing the decorations and ponders on how his previous methods have affected others. Hachiman later runs into Yukino and while knowing that he had been assisting Isshiki with her request, she explains that he does not have to simultaneously look out for herself and Yui and offers a leave of absence from club activities to relieve him of that burden. 

Episode 8

"But Still, Hikigaya Hachiman Is..."
May 21, 2015
Shizuka spots Hachiman about to return home from his chance encounter with Yukino and he outlines the desperate state of recent events. Shizuka gets right to his root emotional problem by explaining that his attempts to protect Yukino and Yui had in fact been the very cause of the rift within the Service Club. She then suggests that he contemplate his feelings until he figures out exactly what he had been trying to achieve. The following day, Hachiman takes Shizuka's advice and asks for Yui and Yukino's assistance after admitting the mess his plans had created. Yukino declines per her usual defensive trait and Yui tearfully highlights her unfairness to open up, but Yukino retorts by chastising Yui for hiding her true feelings as well. Hachiman then comes to the realization about what Shizuka had meant by not simply voicing one's feelings and fights back tears when he reveals that he truly wishes to understand the feelings of those around him. Hachiman's unfamiliar presentation then causes a conflict with Yukino's inability to discern a person's true emotional state which literally scares her off to the roof. Hachiman and Yui go after her and Yui's mutual sentiment for them to be more open with each other resonates with Yukino so much that she decides to help Hachiman. 

Episode 9

"And, Yukinoshita Yukino Is..."
May 28, 2015
After getting some encouragement from Komachi, Hachiman joins Yui, Yukino and Isshiki in the Kaihin-Soubu meeting. After the meeting, Yukino points out that the situation is far worse than she imagined and they turn to Shizuka for some advice, who in response presents them with four tickets to an Amusement Park. The group then decides to pay a visit there looking for ideas for the Christmas event, but Yukino is already a regular patron of this park with a membership card, so they have one ticket left, and Yui decides to use it to invite someone else. Much to Hachiman's dismay, this cause Hayato and his clique to join them in the park as well. After enjoying several attractions with the others, Hachiman and Yukino end up forcibly separated from them and they decide to take one of the rides just the two of them, having a little heart to heart in the occasion. Reunited with the others, Hachiman watches Isshiki talking to Hayato alone from afar and she suddenly flees in tears, while Hayato stands speechless, showing a serious face. 

Episode 10

"What the Lights in Each of Their Hands Illuminate."

"Sorezore no, tanagokoronouchi no akari ga terasu mono wa."(それぞれの、掌の中の灯が照らすものは。)

June 4, 2015
Isshiki forces Hachiman to take her home after her rejection by Hayato and reveals that his recent outburst in the Service Club had prompted her to act prematurely. Hachiman has the Student Council meet with the Service Club some time later and proposes that they adamantly push for a drastic change in the Kaihin-Soubu meeting to prevent a disaster in the Christmas event. The Soubu students then try this tactic at the next meeting and when Tamanawa shoots them down, Hachiman calls them out on their fear of responsibility coupled with their inability to perform under said responsibility as further proposed by Yukino. This has the desired effect and they soon settle on a musical rendition and stage play. Finally on the day of the Christmas event, Isshiki takes charge and the event turns out a huge success. The Service Club go out to celebrate the New Year a week later and Hachiman gives Yukino some advice to spend the season with her family. Hachiman and Yui go shopping for Yukino's birthday the next day and run into Haruno and Hayato while waiting on their parents. Haruno then calls Yukino over from home, much to her annoyance and her strained familial ties are expressed with her mother arrives and offers her to stay, but Haruno tells her not to. 

Episode 11

"Hayama Hayato Always Responds to Everyone's Expectations."

"Itsudemo, Hayama Hayato wa Kitai ni Kotae te iru."(いつでも、葉山隼人は期待に応えている。)

June 11, 2015
The senior students begin thinking about specializing their fields of study towards Liberal Arts during the new semester but quickly focus their attention on a rumor about relations between Yukino and Hayato. This prompts Yumiko to visit the Service Club where she tearfully exposes a fear of growing apart from Hayato since he had chosen not to share his future plans with their peer group. Hachiman then tries and fails in both directly confronting Hayato about his choice and indirectly from Haruno when she shows up at Soubu High to assist the Student Council. Hachiman eventually decides to use the Annual Winter Event Marathon Race to his advantage by using the stress of the event to goad Hayato into choosing Sciences. This unexpectedly causes Hayato's inferiority complex towards Hachiman to surface and he decides to do the opposite of the latter's words. Hayato eventually wins the marathon and dispels the rumor when he thanks Yumiko and Isshiki for their support. He also apologizes to Yukino for the rumor at the after-party. Hayato eventually tells Hachiman that he did not want to reveal his choice since the status quo of his peer group would have taken it entirely out of his hands and hence hurt his pride in deciding for himself.

Episode 12

"Still, The Thing He Seeks Is Out of Reach, And He Continues to Mistake What's Real."

"Imada, Kare no Motomeru Kotae ni wa te ga Todoka zu, Honmono wa Machigaitsuzukeru." (未だ、彼の求める答えには手が届かず、本物はまちがい続ける。)

June 18, 2015
Hachiman meets with Haruno one day after being called out and learns that the Yukino that they've all come to know may just be a persona she invented. The Soubu students turn their attention towards Valentine's Day and the excitement causes Hina and Saki to seek help with making homemade chocolates from the Service Club along with Isshiki and Yumiko, who intend to give theirs to Hayato. Since Hayato had decided not to accept chocolates from anyone, Hachiman concludes that they would need an excuse to force him to accept them. This prompts Isshiki enlist the Student Council in throwing a joint Cooking Class event with Kaihin General. The event turns out to be a huge success in bringing everyone together and Shizuka expresses her content with the growth that Hachiman has made as an individual since expanding his social circle.Yukino and Yui later present Hachiman with their chocolates but Haruno shatters their moment together claiming it to be a facade. As the three walk home later that night, they suddenly encounter Yukino's mother and Yui and Hachiman get a glimpse at Yukino's struggle for individuality in her family's shadow. This leaves Hachiman with the impression that they all have yet to find their true selves hidden behind their personas.

Episode 13

""Spring, Bound Beneath the Thick Snow, Begins to Sprout."

"Haru wa, Furitsumoru Yukinoshita nite Yuware, Mebukihajimeru."(春は、降り積もる雪の下にて結われ、芽吹き始める。)

June 25, 2015
Haruno intercepts the Service Club on their way home one afternoon and lambastes Yukino for failing to make life choices on her own despite the immense freedom the Yukinoshita family has allowed her. Yui then allows Yukino to spend the night at the Yuigahama residence until things between the Yukinoshita sisters cool down. While Komachi heads out to her Soubu Entrance Examinations the next day, Yui invites Hachiman and Yukino out to the Kasai Rinkai Park where they spend the day at the aquarium and bond over their respective personalities while observing the various aquatic life. The three then share a reaction to the bonds of a pair of penguins and Yukino makes an allusion to her strained sense of belonging. Yui eventually states the true reason she called them out and as the day draws to a close, she uses her initial Service Club request to claim responsibility for the fractured bonds between them and further requests that they continue feigning their blissful status quo. However, Hachiman interjects that it would be better to suffer in their uncertainty rather than live in a deception, and the girls decide to accept his compromise. Yukino then decides to address Hachiman's request for them to understand each other and finally confides her own request to the Service Club.
Voice Actors
Crew
The first promotional video was streamed last January: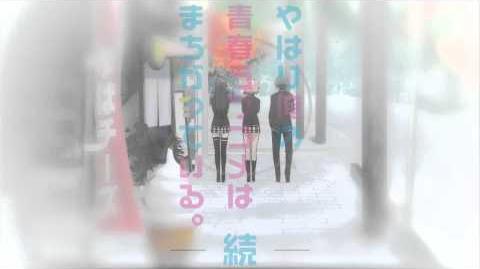 You can visit the anime's website here: 
http://www.tbs.co.jp/anime/oregairu/
And follow their Twitter here: @anime_oregairu
Trivia
Five Coca-Cola products were endorsed in this anime. The first one is The Coca-Cola Vending Machine was shown on Episode 2, Hachiman stating that there were no MAX Coffee available at the vending machine, a Georgia Black Emerald Mountain Blend, Fanta Soda Cans that were shown in Episode 6, and Coca-Cola Soda Cans.
UNO, an american card game, was also endorsed in the 2nd Episode of the series where Zaimokuza is seen holding the UNO deck while dreaming about Hachiman calls UNO during his sleep. In the Light Novel they play Mahjong.
My Teen Romantic Comedy SNAFU TOO!'s feel. Studio is the second anime studio to make this season. This is also the first time to change their anime studio and the main reason why the character designs were changed slightly including at the starting scenario of episode 1.
Ad blocker interference detected!
Wikia is a free-to-use site that makes money from advertising. We have a modified experience for viewers using ad blockers

Wikia is not accessible if you've made further modifications. Remove the custom ad blocker rule(s) and the page will load as expected.