My Teen Romantic Comedy SNAFU TOO!

A Promotonal Poster For The My Teen Romantic Comedy SNAFU TOO!

Country
Japan
No. of episodes
13
Release
Original channel
TBS
Original release
April 2, 2015 – June 25,2015
Season chronology

Previous

Next

My Teen Romantic Comedy SNAFU

TBA
My Teen Romantic Comedy SNAFU TOO!
(also known as
Yahari Ore no Seishun Love Come wa Machigatteiru. Zoku)
is the second installment of the anime series based on the
Light Novel
and a direct sequel to
My Teen Romantic Comedy SNAFU.
It is a continuation from the first season where the main character
Hachiman Hikigaya
is forced to join his school's
service club
, which has an unexpected effect on his life. It aired on TBS from April 3, 2015, to June 26, 2015. the final episode aired on the release date of
Volume 11
.
This season's animation is noticeably very different from the first season. The reason being production was handled by "feel. Studio." instead of "Brain's Base", who did Season 1.
This season covered Volumes 7 - 11 of the Light Novel.
Ova Zoku was released after this season. It covers Volume 10.5, and slots in between episodes 10-11.
Opening Theme
"Harumodoki (春擬き, Pseudo-Spring)" by Nagi Yanagi
Ending Theme
"Everyday World" by Saori Hayami (Yukino Yukinoshita) and Nao Touyama (Yui Yuigahama)
Other Music
"Bitter Bitter Sweet" is used as an insert song in the first episode and also performed by Saori Hayami and Nao Tōyama as their respective characters.
"Yukitoki" (ユキトキ) by Nagi Yanagi, (which is used as an opening theme for season 1) is used as an insert song in the tenth episode.
Plot
Hikigaya Hachiman is still the main focus and has not changed much. The story continues shortly after season 1 ended. Most of the hatred directed towards Hachiman has faded and he is back to being a nobody, except to his companions. He and his friends Yui, and Yukino are slowly learning what true friendship is. Together they must sort out their feelings for eachother and make a decision involving their future career paths. While still continuing to fulfill their role as the Service Club. Their newly formed friendship is going to be tested by the biggest request to date.
The story is told from the main character, Hachiman Hikigaya's Point Of View. Meaning the audience is given the same information that the main character is.
List of Episodes
Brief refresher information. For much more detail visit the Episode Page.
No.
Title
Original airdate
Episode 1

"And that, nobody knows why they come to the service club"

"Naze, karera ga hōshibu ni kita no ka daremoshiranai"

April 2, 2015
School resumes after the Culture and Athletic festivals and the focus shifts from Hikigaya Hachiman's actions to an upcoming field-trip to Kyoto.

Kakeru Tobe requests the Service Club's help with asking out Hina Ebina. They accept and Yui Yuigahama outlines a plan to utilize the field-trip for the request until Hina interrupts them. Hina remarks about their evolving relationships and desire for nothing to change.

They arrive in Kyoto for the field-trip. Hachiman and Yui make little progress with Tobe's request on the first day.

Hachiman and Yukino Yukinoshita spot Shizuka Hiratsuka attempting to sneak out of the hotel for alcohol. Shizuka bribes them with ramen to keep quiet. The first day of the field-trip ends with Hachiman escorting Yukino back to the hotel. 

Episode 2

"His and her confession won't reach anyone"

"Kare to kanojo no kokuhaku wa darenimo todokanai"

April 9, 2015
On the second day of the Kyoto trip, Hachiman and Yui continue to pair up Tobe and Ebina. Later Hachiman runs into Yumiko Miura at a convenience store, who mentions he should stop messing with Ebina, as she doesn't want her group to change.

The next day Hayato and Ebina separately ask Hachiman to stop Tobe's confession. Both are concerned about their group just like Yumiko.

That night the Service Club and Hayato's clique are observing Tobe's confession to Ebina. Before Tobe confesses, Hachiman interrupts him and asks Ebina on a date. Hina rejects him and explains her desire to be single. Tobe then thanks Hachiman for saving him from the embarrassment of rejection.

Despite Hachiman fulfilling everyone's requests, Yukino voices her disgust at his actions and Yui tearfully yells at him for failing to see how his problem solving methods hurt those who care about him.

The next day Hina thanks Hachiman for fulfilling her request in saving the status quo of her peer group.

Episode 3

"Silently Yukinoshita Yukino makes her decision"

"Shizuka ni, Yukinoshita yukino wa ketsui suru"

April 16, 2015
School resumes and Hayato's clique is back to normal, while Service Club becomes very tense.

Meguri Shiromeguri and Isshiki Iroha request aid in helping Isshiki lose the upcoming Student Council presidential election. Hachiman and Yukino argue over how to handle the request and agree to use separate methods.

Later, Hachiman runs into Haruno, as well as Kaori Orimoto and Chika Nakamachi. Haruno invites Hayato out to meet her (them).

At the next Service Club meeting, Hachiman and Yukino argue further about their differing methods.

In the epilogue, Isshiki goes after Hachiman and expresses her concern over the tense state of the Service Club, but he promises that they will figure something out. 

Episode 4

"And Then, Yuigahama Yui Makes a Declaration."

"Soshite, Yuigahama Yui wa sengen suru"

April 23, 2015
Hayato invites Hachiman to hang out with Kaori, Chika and himself. Hachiman declines, only to reconsider after pressuring from Haruno.

The four of them go out one afternoon and the Kaihin girls continuously poke fun at the expense of Hachiman. At one point they run into Isshiki and Tobe.

That evening Hayato secretly invites Yukino and Yui to meet them. He then defends Hachiman's integrity from Kaori and Chika in front of Yui and Yukino. Afterwards, Yukino voices her disapproval for being deceived by Hayato. Haruno appears and taunts Yukino about not running for student president.

In the aftermath, Hayato apologizes to Hachiman, he only intended to get Hachiman to see the error of his self-sacrificial methods. This offends Hachiman to the point where he argues that the consequences of his choices are his alone and should not be the concern of others.

The next day, Yukino decides to enter the election against Isshiki as a solution for her request. Since this effectively jeopardizes the future of the Service Club should Yukino emerge victorious, Yui also decides to enter the election in an attempt to preserve the Service Club should she win. Yui almost confesses to Hachiman. 

Episode 5
"The Scent of Tea Doesn't Fill That Room Anymore."

"Sono heya ni wa, Kōcha no Kaori wa mō shi nai."

April 30, 2015
Hachiman is conflicted about what to do. He considers that his friends might be more important than fulfilling requests. Komachi offers him advice and requests that he find a way to keep both Yukino and Yui in the Service Club.

The next day, Hachiman meets with Zaimokuza, Totsuka, Kawasaki and Komachi to brainstorm ideas for handling the student council election. They help Hachiman realize that his initial idea was the wrong way to do things. Later, Hachiman has Yoshiteru create an anonymous social media campaign supporting Isshiki.

The following day, Hachiman manages to convince Isshiki into accepting the presidential position. Hachiman later presents the statistics to Yui and Yukino but does not tell them that he manipulated the entire situation to make Isshiki accept.

Yukino is disappointed and Yui assumes he did something underhanded again, but thanks him anyway. Isshiki eventually wins the election by default and life moves on once again. 

Episode 6

"Without Incident, The Congress Dances, But Does Not Progress."

"Tsutsuganaku, Kaigi wa Odori, Saredo Susuma zu."

May 7, 2015
Even though Hachiman has "solved" Isshiki's request, the Service Club is still tense and less friendly than before.

Isshiki soon asks the club to help the Student Council with a Christmas event. Hachiman rejects the request on behalf of the club and instead takes it up personally.

Later that day, Hachiman meets with the Soubu and Kaihin Student Councils at the local community center to begin planning the event. Hachiman observes how Kaihin's president talks in circles and pushes any work onto Isshiki.

The next day, Hachiman tries moving the conference along productively but keeps getting shut down by Tamanawa. After the meeting, Kaori catches up with Hachiman and talks about how different he is and that he seems to be skilled at diplomacy.

Hachiman thinks back about how foolish he was in middle school. 

Episode 7

"Yet, That Room Continues to Play Out the Endless Days."

"Saredo, Sono Heya wa Owara nu Nichijō o Enjitsuzukeru."

May 14, 2015
On the way to Service Club Yui talks to Hachiman about Yukino.

Hachiman begins leaving Service Club early in order to help Isshiki.

Very little is being accomplished during the Christmas planning. Elementary school children are brought in to perform as part of the Christmas event. Among them is Tsurumi Rumi. After struggling throughout the day Hachiman runs into Totsuka on his way home and they have dinner together.

The next day, Hachiman and Isshiki run into Kaori and they briefly discuss their past, piquing Isshiki's curiosity. During the meeting nothing is accomplished again. Hachiman also notices Rumi is doing well, but her issue isn't solved completely. He realizes the outcomes of all his actions are not what they should be.

Later Hachiman is wandering around thinking about his situation when he runs into Yukino shopping at the mall. Yukino tells him he no longer has to force himself into coming to the Service Club. 

Episode 8

"But Still, Hikigaya Hachiman Is..."

"Soredemo, Hikkgaya Hachiman wa."

May 21, 2015
After their encounter Yukino leaves. Shizuka spots Hachiman on his way home and invites him for a ride/talk. Shizuka offers him advice about his situation.

The following day, Hachiman takes Shizuka's advice and asks for Yui and Yukino's assistance and admits his plans had caused a mess. Yukino declines stating he should clean up his own mess. Hachiman then explains his wish for something genuine. Yukino becomes conflicted and runs away.

On the rooftop they reconcile and Yukino decides to help Hachiman with his request. 

Episode 9

"And, Yukinoshita Yukino Is..."

"Soshite, Yukinoshita Yukino wa."

May 28, 2015
Yui and Yukino join Hachiman and Isshiki for the next Christmas event meeting. After the meeting, Yukino points out that the situation is far worse than she imagined and they turn to Shizuka for advice. Shizuka gives them four tickets to Destinyland. The group accepts hoping to find ideas for the Christmas event. Yui decides to invite Hayato who brings his clique.

Ebina thanks Hachiman for his solution during the Kyoto trip. She also apologizes if it put a strain on the Service Clubs relationship.

After enjoying several attractions with the others, Hachiman and Yukino get separated from the group. They decide to take one of the rides to kill time, having a heartfelt conversation during this moment.

Afterwards they reunite with the others, Hachiman watches Isshiki confess to Hayato but get rejected. 

Episode 10

"What the Lights in Each of Their Hands Illuminate."

"Sorezore no, tanagokoronouchi no akari ga terasu mono wa."

June 4, 2015
Isshiki is escorted home by Hachiman after her rejection by Hayato. She blames Hachiman for her actions.

Hachiman takes charge at the next Christmas meeting and calls out Kaihin's Student Council on their lack of action. This has the desired effect and they soon settle on a musical & play.

During break Kaori tells Hachiman that she wouldn't mind starting their friendship over.

On the day of the Christmas event, Isshiki takes charge and the event turns out a huge success. Later, Hachiman thanks Yui and Yukino for resolving his request. They both agree that his request isn't finished (genuine), confusing him.

The Service Club go out to celebrate the New Year a week later and Hachiman encourages Yukino to spend the season with her family.

Hachiman and Yui go shopping for Yukino's birthday and run into Haruno and Hayato. Haruno then calls Yukino to meet her. Yukino is surprised when her mother shows up, who wants to take her for their family meal. Yukino seems reluctant, before Haruno backs her down and they leave for dinner. 

Episode 11

"Hayama Hayato Always Responds to Everyone's Expectations."

"Itsudemo, Hayama Hayato wa Kitai ni Kotae te iru."

June 11, 2015
After winter break, a rumor about relations between Yukino and Hayato is being spread. Yumiko visits the Service Club where she confronts Yukino who denies the rumour. She requests they find out Hayato's career plan so she can be in his classes another year.

Hachiman directly asks Hayato but is rejected. He then asks Haruno for help, who refuses as well.

Hachiman uses the Annual Winter Event Marathon to talk to Hayato alone. He goads Hayato into choosing Sciences. Hayato mentions he cant do what Hachiman asks and leaves Hachiman behind.

Hayato wins the marathon and dispels the rumor when he thanks Yumiko and Isshiki for their support.

Later, Hayato apologizes to Yukino for the rumor at the after-party. Hayato and Hachiman agree to disagree about their lifestyles.

Episode 12

"Still, The Thing He Seeks Is Out of Reach, And He Continues to Mistake What's Real."

"Imada, Kare no Motomeru Kotae ni wa te ga Todoka zu, Honmono wa Machigaitsuzukeru."

June 18, 2015
Hachiman meets with Haruno to discuss Yukino and her career path.

The Soubu students turn their attention towards Valentine's Day. Many students want help with making homemade chocolates from the Service Club in order to give chocolates to Hayato. Since Hayato had decided not to accept chocolates from anyone, Hachiman concludes that they would need an excuse to force him to accept them.

Isshiki decides to joint-host a Cooking event with Kaihin School. The event turns out to be a huge success in bringing everyone together.

Shizuka expresses her content with the growth that Hachiman has shown. Haruno teases Hachiman and Yukino during the event making their group tense.

As the Service Club walk home together, they encounter Yukino's mother. Yui and Hachiman get a glimpse of Yukino's struggle for individuality in her family's shadow. This leaves Hachiman with the impression that they all have yet to find their true selves hidden behind their personas.

Episode 13

"Spring, Bound Beneath the Thick Snow, Begins to Sprout."

"Haru wa, Furitsumoru Yukinoshita nite Yuware, Mebukihajimeru."

June 25, 2015
Haruno intercepts the Service Club on their way home one afternoon and says she will be staying with Yukino for a while. Yui then allows Yukino to spend the night at her house until things cool down.

The next day, while Komachi takes Soubu Entrance Examinations, Yui invites Hachiman and Yukino out to the aquarium. Yui eventually states the true reason she called them out and offers an ultimatum, if she wins they must all remain friends and stop exploring their feelings for each-other. Hachiman rejects the proposal stating its not genuine, and the girls decide to accept his compromise. Yukino then asks if they will hear her request, which Yui accepts.

OVA Episode
"Undoubtedly, Girls Are Made of Sugar, Spice, and Everything Nice."
"Kitto, Onna no Ko wa Osatō to Spice to Suteki na Nanika de Dekiteiru" (きっと、女の子はお砂糖とスパイスと素敵な何かでできている)
October 27, 2017
Disclaimer: This episode takes place before Episode 13

Isshiki makes Hachiman come with her on a "date", to brainstorm date idea's Hayama might like. They play ping pong, see a movie, eat dinner as well as go for dessert. Afterwards, Isshiki concedes she had fun.

The next day Isshiki asks the Service Club to find more date spots for a student newsletter. She gives them a camera to take pictures of good spots.

On Hachiman's next free day he accompanies Yui and Yukino to look around for places students would enjoy.

When at school Isshiki approves of all the photos the Service Club took. She also decides to take a photo of the Service Club as thanks and because they will need one for the yearbook.
Voice Actors
Crew
The first promotional video was streamed last January: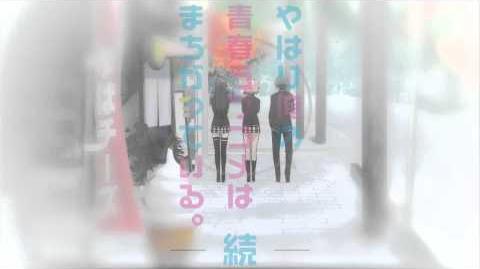 You can visit the anime's website here: 
http://www.tbs.co.jp/anime/oregairu/
And follow their Twitter here: @anime_oregairu
Trivia
Five Coca-Cola products were endorsed in this anime. The first one is The Coca-Cola Vending Machine was shown on Episode 2, Hachiman stating that there were no MAX Coffee available at the vending machine, a Georgia Black Emerald Mountain Blend, Fanta Soda Cans that were shown in Episode 6, and Coca-Cola Soda Cans.
UNO, an american card game, was also endorsed in the 2nd Episode of the series where Zaimokuza is seen holding the UNO deck while dreaming about Hachiman calls UNO during his sleep. In the Light Novel they play Mahjong.
Ad blocker interference detected!
Wikia is a free-to-use site that makes money from advertising. We have a modified experience for viewers using ad blockers

Wikia is not accessible if you've made further modifications. Remove the custom ad blocker rule(s) and the page will load as expected.