Welcome to the OreGairu Wiki!
The Wiki is about the Light Novel and Anime series Yahari Ore no Seishun Love Come was Machigatteiru/My Youth Romantic Comedy is Wrong, As I Expected
WARNING: There are spoilers, read with caution!
Click for more characters >>
What do you think of Yahari Ore no Seishun Love Come wa Machigatteiru Zoku OVA?
See Previous Polls
Happy Birthday Yukino!
Read More...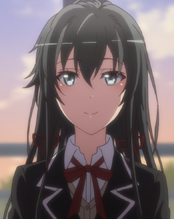 Create blog post
Im aplying over at FANDOM to be granted admin for this wiki. Since there are a few active editors their rules state i must start a public discussion for the community. I first posted/asked on Pokkiri's wall but they havent been here in about 3 month…

Read more >

So I was wondering if anyone can halfhazard a guess in how long things lasted throughout the series. Obviously those who read the Light Novel can estimate better but I just wanted to know a few things.

When does the series begin?

As an ignorant Americ…

Read more >
See more >
Loading RSS data...
Tweets by the official anime @anime_oregairu
Wataru Watari's account
The Light Novel Illustrator, Ponkan8
The @Comic Illustrator, Io Naomichi
The -Monologue- Illustrator, Rechi Kazuki