<placeholder />
Click for more characters >>
What do you think of Yahari Ore no Seishun Love Come wa Machigatteiru Zoku OVA?
See Previous Polls
Happy Birthday Yukino!
Read More...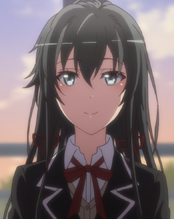 Create blog post
So I was wondering if anyone can halfhazard a guess in how long things lasted throughout the series. Obviously those who read the Light Novel can estimate better but I just wanted to know a few things.

When does the series begin?

As an ignorant Americ…

Read more >

As most of you know by now Volume 12 of Yahari Ore no Seishun Love Come wa Machigatteiru has been delayed, indefinitely. Fans initially thought it could be a very cruel April Fool's prank as the release date disappeared around April 1st, depending on…

Read more >
See more >
Loading RSS data...
Ad blocker interference detected!
Wikia is a free-to-use site that makes money from advertising. We have a modified experience for viewers using ad blockers

Wikia is not accessible if you've made further modifications. Remove the custom ad blocker rule(s) and the page will load as expected.