Click for more characters >>
Favourite female character in "Yahari Ore no Seishun Love Come wa Machigatteiru. Zoku"?
See Previous Polls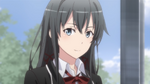 Yukino is the leader of the Service Club. She was the lone member until Hachiman Hikigaya joined her. She is smart and beautiful, but is nicknamed the "Ice-cold Beauty" for a good reason. Read more...
Loading RSS data...
Create blog post
The answer that they continue to get wrong and never reach

The Service Club undertakes Isshiki Iroha's request and helps with an event for Valentine's Day. The event involves the usual members such as Miura, Ebina, Kawasaki and others, aggrandizing t…

Read more >

After the release of the first season of My Teen Romantic Comedy SNAFU or Yahari Ore no Seishun Rabu Kome wa Machigatteiru Blu-Ray Box Edition last March 5, 2015. We are now looking forward on our next misadventures of Yukino Yukinoshita and Hachima…

Read more >
See more >